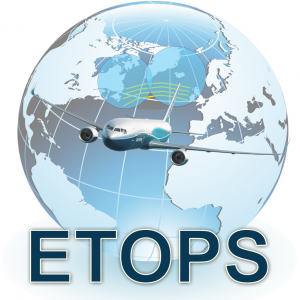 ETOPS Version 1.4 has been approved by Apple.
New Features:
– Background location services are now automatically stopt after a while if there is no movement to conserve battery power (if used on battery)
– Besides 'Area' SIGMETS, SIGMETS with a 'Line' are also displayed
– Updated (where possible) the ICAO Detailed names for airfields (thanks to openAIP)
– Night mode now uses Google Maps Night option, and it works throughout the app now
– Added file support for .eto and .fpl and .txt files that may contain a route -or FPL message (See manual for more information)
– Option to scan a FPL message with the camera
– Option to paste a FPL message in the route window (alternates and etops alternates are automatically filled in)
– LAT/LON Girdlines added
– Option to set a manual position by dragging the airplane Icon
– Added option to manually set GPS position with coordinates and 'run' with entered settings (Speed/track) so the app can also work without a GPS!
– Turbulence and Icing data is now also downloaded
– Option to overlay a SIG weather chart
– Copy Current postion to clipboard now also displays next Waypoint Distance/time and True Track.
Fixes
– Bug fixed in route/waypoint lookup
– Fixed labels (enroute A/D for example) do not rotate with map
– Fixed Wind Calculations on manual Waypoints
– Fixed sticky HUD when editing a route and pressed Load Route button
– Fixed error in Out Of ALT Range routine (overlapping alternates would constantly generate a message)
– Fixed possible error in winds not being displayed after switching screens
– Reviewed NAT processing (small performance updates when NAT's are off)
ETOPS Free version
This version of ETOPS has all the functionality of the paid version, however location and route functions will be disabled after 8-12 min.