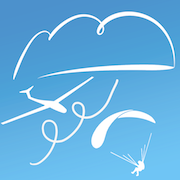 SkyVario, an application designed for gliders and paragliders (but can also well be used for hang gliders and general aviation!). It features a simple user interface with a vario meter, compass and moving map utilising the iPhone's barometric sensor and gps.
The app comes standard with an option to display airspaces for positional awareness. As well as Apple Watch support. No subscription required!
SkyVario offers tracking of your flight and export various formats like GPX, CSV and secured IGC.
It also offers a very basic live tracking web viewer, so others can follow your flight!
Other features:
– airspace warnings
– User defined landing zone with guidance
– Configurable vario limits
– Apple Watch support
– Automated flight tracking
– Export formats for sites like:
– Livetrack24, onlinecontest.org etc
Note that SkyVario uses location services when tracking, even when the application is not active. This will consume more battery power then normal. Although every effort has been made to reduce the impact on battery life, please make sure tracking and background location services are afoot when the application is not in use.