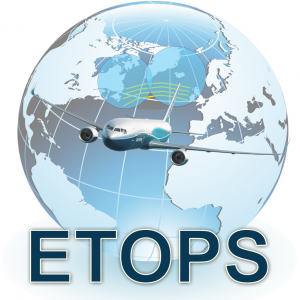 The ETOPS application features a graphical (moving, if a valid GPS signal is available) map (provided by Google, no aviation map!) with the option to plot a route from aviation waypoints and display circles based on (a user selectable) ETOPS range.
The application also supports background updating and notifications when leaving/entering an ETOPS range and when abeam an ETP.
Although the application has the ETOPS options in it, it does not require these settings to be used, so it can also be used for other form of flights besides ETOPS flights.
Some other features:
– Display of OTS NAT Tracks based on actual OTS information
– Flight tracking option (autonomously, including detection of Off Block, Take off, Landing and On Block times.
– Export of flight(s) and track(s) (GPX Format)
– Bluetooth GPS Support
ETOPS Free version
This version of ETOPS has all the functionality of the paid version, however location and route functions will be disabled after 8-12 min.